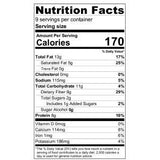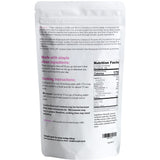 Keto Instant Hot Cereal Oatmeal: Vanilla Crunch
SIMPLE INGREDIENTS: Farm Girl 

Hot Cereal is a hearty, low carb breakfast alternative to traditional instant oatmeal. Made with natural sweetener, this satisfying hot breakfast with a burst of vanilla and cream is a great start to any day!

SWEETENED WITH OUR PROPRIETARY SWEETENER: This blend of raw, natural sweeteners from, stevia extract, erythritol, and fructooligosaccharides rank low on the glycemic index, providing a delicious burst of sweetness without any added sugar. Farm Girl keeps your breakfast low carb and diet-friendly! Eat healthily and feel great!

CONVENIENT: Densely packed travel-ready. Great as an airplane or office snack, camping or backpacking trail mix, or as a gym bag snack.
Nutritional
Calories: 170 per serving
Total fat: 13g
Cholesterol: 0g
Sodium: 115mg
Total Carbohydrate: 11g
Protein: 8g
Net Carbohydrates: 3g
Ingredients
Almonds, Coconut, Sunflower seeds, Flax, Chia Seeds, Oat fiber, Pecans, Inulin, Cashews Citrus fructoolgosaccharides, Milk Powder, Erythritol, Vanilla, Sea Salt, Stevia.
Keto Instant Hot Cereal Oatmeal: Vanilla Crunch
Feel-Good-Food!!
Love the hot Farm Girl vanilla oatmeal
Amazing
I love my Farm girl Keto Instant Hot cereal Vanilla Crunch Oatmeal. I add a few strawberries or blueberries and I am good to go. Thank you Farm Girl
Excellent!
Having lived the Keto lifestyle for a number of years now, I've tried lots of products hoping to replace traditional foods...this is by far the best replacement yet! I will definitely purchase this again!
So yummy!!!
I eat this oatmeal every morning! I love to add a scoop of my favorite protein powder and it keeps me satisfied for a few hours! Has a great nutty taste and mostly smooth texture with a few nut chunks to keep it interesting! My only wish is for a bigger bag!!
Oatmeal, vanilla crunch review.
Best oatmeal ever! Will by more!