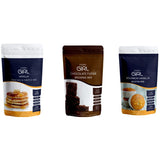 Keto Gluten Free Starter Kit.
Keto Gluten Free Starter Kit.
Starter kit
A wide variety of items -some that I've had before but many new things that I will purchase moving forward. It was a great collection for a good price.
They actually taste good! Didn't miss the gluten or the sugar !
Pleasantly surprised
I have ordered and tried several keto/gluten-free mixes, these are the first to actually taste good! Do I come in knowing they will not taste like a full sugar and flour-based dessert? definitely! But I am delighted with the flavours and so are my kids! they have been stealing my "healthy" desserts...lol!
I can't believe it's GF
The cakes were moist and delicious. Amazing, i've already told a few friends about this. . . . =)
All baking mixes
Best tasting baking mixes we have ever had, love it.